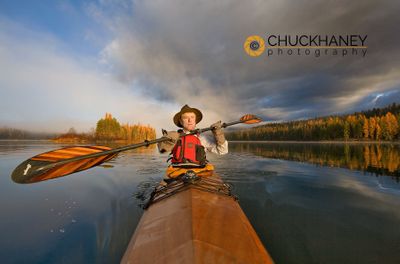 ABOUT
Chuck Haney is a professional freelance photographer/writer/videographer based in the heart of the Rocky Mountains in Whitefish, Montana. Chuck travels extensively across America in pursuit of the finest and most intriguing images.
His provocative use of natural light in landscape work along with wildlife, birds and outdoor sports images have drawn national acclaim and have landed him many assignments with leading publications, travel bureaus and companies.
Chuck has had 16 books published, numerous sole-photographer calendars and over 300 magazine covers to his credit. Chuck also teaches photography workshop classes across the country.
My philosophy has always been to shoot what I enjoy doing personally and have that heartfelt feeling reflect in the images. I actively participate in the sports that I shoot. I have an energetic lifestyle where I hike, bike, ski and paddle and just explore the world in which I preside. Not only do these activities give me interesting subjects to record, they allow me to experiment with cutting-edge styles and keep my motivation fresh. This insight allows me to interpret the land and the people that inhabit it with a distinct vision. For me having that individual look is what turns me on about photography the most. Send ten different photographers out to shoot a local and you will most likely come back with ten different and distinct images to view.
Due to all the swift technological changes in our industry we photographers are now able to capture images that we could have only imagined to take just a few years ago. I love being able to have an image in my mind, being able to make it happen both artistically and technically and then have complete control of how the image is later displayed either as a fine art print or displayed on the web or in a publication. One thing that hasn't changed is my desire to be one of the best photographers in the country. I admit the fire still churns as the passion to make great images means I never need an alarm clock to get out bed, even if it is a 3 a.m. wakeup call!
I spend most of my travel time exploring the good ol' USA. There are so many remarkable landscapes and regions right here that I will never run out of interesting subjects to pursue. I vastly enjoy meeting my photography workshop students from across the country; it is very satisfying to teach and rewarding to make so many new friends. The rest of my time is spent here in my treasured home town of Whitefish, Montana where a converted bedroom serves as my office complete with a relaxing view into my wooded backyard where I often have wildlife and birds roaming around and the constantly–changing Montana weather is always interesting to take in. I enjoy my time in front of the computer screen, as being proficient in Photoshop is really half the equation to producing quality imagery these days. That being said, my favorite times are when I am out in the wilds, way from the news of the day, watching another serene sunrise and never quite knowing for sure what mother nature has in store for my eyes this coming day. After, isn't that what life should really be all about?
Here at Chuck Haney Photography it is a one-man operation. I make travel plans, secure models, do all of the shooting, and keep the books, do self-promotions and marketing. A stock photographer without a staff must wear many hats. I use state of the art equipment to acquire my crafted images, use the latest computers and strive to keep my clients happy with great images and timely delivery. I wouldn't have it any other way.